Laser CardioTherapy Treatment and Clinic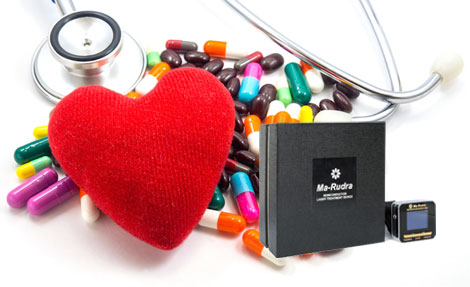 Using the balanced science of Ayurveda, brings to you a "Cardiac Medicine" called "Laser CardioTherapy".
(FDA approved), a patent formulation with GMP certification.
As we witness the technological evolution in diverse fields, medicine to has its own credible share. In spite of this, cardiovascular disease still has its terrorizing effect on us. There are various reasons to support this. Some of them are changing lifestyles, pollution, stress, obesity, etc. which have lead to consistent increase in heart ailments. Laser CardioTherapy is one such life healing ayurvedic medicine. Ayurveda is combination of effectiveness and security and not a mere collection of herbs.
It is approved by the Indian Food & Drug Administration, and certified by the Good Manufacturing Practice. MDXL is purely herbal, madewiththe balanced science of Ayurveda. Reduces the load on the heart and is a cardiac stimulant. Laser CardioTherapy is a combination of several herbs and has proved to be the best alternative to Angioplasty and Bypass surgery and post Bypass problems. It is tried and tested by thousands of patients of coronary artery disease. All the ingredients used in the medicine are the combination of ancient herbal medicine and modern science. Treating patients all over India and abroad.
NEED FOR MULTIPLE INGREDIENTS :
In Ayurveda, a science of one principle balances the other by synergism or antagonism. Some herbs enhance action, while others avoid or minimize possible side effects. The interaction of variety of compounds makes remedies safe and more effective.
INDICATIONS :
Coronary artery disease and other atherosclerotic conditions.
DOSAGE & ADMINISTRATION :
Laser CardioTherapy should be consumed on an empty stomach, in dosage as decided according to the treatment guidelines with warm water.
PRESENTATION :
Laser CardioTherapy are available as 30 soft gelatinous capsules in individually packed bottles.
CONTRAINDICATION :
There is no contraindication for use of Laser CardioTherapy and unless the patient is known to be hypersensitive to any of its ingredients it may be used in any clinical setting or with any underlying disorder.
SIDE EFFECTS :
Laser CardioTherapy being an Ayurvedic formulation is relatively devoid of side effects. There have been rare instances of gastritis or a mild and temporary skin irritation with the use of Laser CardioTherapy. However, this too resolves/disappears when the therapy is discontinued.
DRUG INTERACTIONS :
Laser CardioTherapy does not interact with any other drug.
OVERDOSAGE :
Laser CardioTherapy has been generally well tolerated in individuals using upto 9 capsules daily for a period of three years.
Suitable for Healthy People
Laser Hemotherapy is Highly Suitable For People Who Need to Handle Stress in Jobs (corporates, executives ,managers etc),
Who Need to Be Focused Like Drivers, Pilots
Who Need to Improve Activity of Brain Cells Like Students,
Who Need to Improve Stamina / Physical Endurance like Sports Persons.
Laser Hemotherapy Improves Oxygen Carrying Capacity of Blood So Brain, Heart, Lungs, Muscles Improve The Performance...